Cryptozoology. The term was first coined in the 1950s by French zoologist Bernard Heuvelmans, but the subject has been with us for as long as we have huddled around campfires and wondered about the night beyond. Classified as a pseudoscience, cryptozoology is the study of unknown, legendary, or extinct animals.
Everyone is familiar with at least a few cryptids — as the subjects of this study are known. Bigfoot may be the most famous, along with the likes of the Loch Ness Monster, the Mothman of West Virginia, the Jersey Devil, and others. Among these is the Central American cryptid known as the chupacabra, or "goat-sucker."
The chupacabra itself may be little more than an example of a person seeing the movie Species, but that hasn't stopped the creature from firing up imaginations both north and south of the border. In fact, the chupacabra has become so ubiquitous in the contemporary imagination that Netflix has transformed the vampiric "goat sucker" into an adorable sort of winged, cat-like critter for a PG-rated family adventure called Chupa in 2023.
As you'll see from this list, though, the Netflix film is merely the latest of many times that the chupacabra and other cryptids have found their way into film and other media, including books both fiction and non. From guides to cryptids and the hunting thereof to fictional stories about the nature of the universe, the inconsistency of reality, and the borders we create between ourselves, these authors have either written detailed guides to what we know about cryptids such as the chupacabra, or used these mysterious beasts as a jumping off point to tell stories that illuminate mysteries about ourselves.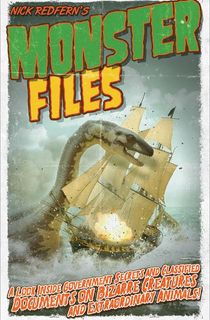 Monster Files
"Despite what your parents might have told you when you were a child, monsters really do exist," promises the back cover copy of Nick Redfern's exposé. "And our governments know all about them." From the author of Three Men Seeking Monsters, this book proposes to bring to light classified or simply undisclosed government documents concerning all sorts of strange creatures, from the so-called Loch Ness Monster to the chupacabra and even … psychic pets? To see what such government agencies as the Pentagon, the Kremlin, and the British military have to say about these subjects, you'll have to read the book.
It Came From Del Rio
The prolific Stephen Graham Jones has quickly risen to become one of the most celebrated and respected horror writers working today, thanks to books like The Only Good Indians, My Heart is a Chainsaw, and Don't Fear the Reaper. But Jones has written dozens of novels, and one of them was bound to feature the chupacabra.
You can find it here, in this story of borders and border crossings — not only those between the United States and Mexico, but those between life and death. A story about a man estranged from his daughter, and the lengths the two will go to try to bridge that gap, even and maybe especially after it is already too late. Check it out to see why Bird Box author Josh Malerman calls Stephen Graham Jones "one of the best in the business."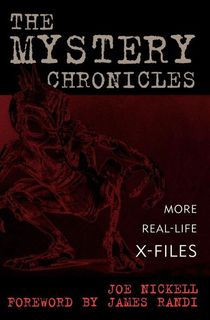 The Mystery Chronicles
Billed as "real-life X-Files," Joe Nickell's The Mystery Chronicles sees him delving into dozens of mysteries from around the world and presenting "science-based explanations for unusual happenings" (Dallas Morning News). As he goes undercover to expose seances and explores rumors of an "alien hybrid" in Germany, he provides solutions and explanations for dozens of the most famous and infamous mysteries of our world, including the Winchester Mystery House, the Shroud of Turin, the bigfoot-like "yowie," and even the chupacabra. The truth is out there … and some of it may just be contained in the pages of this far-reaching book.
Mothwoman
Bram Stoker Award-winning author Nicole Cushing turns her inimitable style and mordant satire to a story that could only be written today. Using the cryptid known as Mothman as its jumping-off point, Mothwoman tackles subjects of mental illness, trauma, Covid, and the growing unreality of politics in America, all in a "sharp, quirky adventure that overlaps alien abduction, horror, conspiracy, cryptids, and existential dread in a way that only Nicole Cushing could manage to pull off" (Brian Evenson, author of Song for the Unraveling of the World).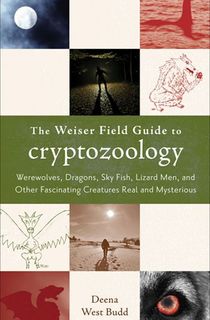 The Weiser Field Guide to Cryptozoology
Drawing together anecdotes, interviews, and news stories about forty different cryptids from around the world, this indispensable guidebook provides a primer on cryptozoology — and a deep dive into many of its subjects, from the dreaded Mongolian death worms to the chupacabra and many more. Complete with line drawings illustrating many of the creatures it covers, the Weiser Field Guide acts as both a compendium of cryptid lore and a naturalist's guide to how to try your hand at tracking and observing these elusive, possibly mythical creatures.
Stonefish
When journalist Den Secord is tasked with tracking down a notorious tech guru, he finds that he may have bitten off more than he can chew. His search for Gregor Makarios takes him deep into primeval forests where something else may be lurking … and where he just might find out secrets of the universe, or watch it come to an end in this debut novel from the writer that Ramsey Campbell calls "a genuine master of horror." Featuring a damaged AI, alternate realities, Bigfoot, and much more, this wild book is "Heart of Darkness meets The Magus meets bleeding-edge psychedelic gnosticism."
Cryptozoology A to Z
With more than 200 entries, Cryptozoology A to Z bills itself as the "first encyclopedia of its kind," aiming to provide an authoritative source for learning about cryptids of all types, from all over the world. Using eyewitness accounts, photographic evidence, and never-before-published drawings, this exhaustive guide is a perfect place to familiarize yourself with cryptids of all types, from lake monsters to the chupacabra and many more besides!