A renaissance for video game adaptations has finally dawned … and in a good way this time. We know in the past, many studios fell flat trying to bring your favorite games to life. But trust us when we say The Last of Us series on HBO will restore your faith in video game adaptations. The new drama stars Game of Thrones veterans Pedro Pascal (Joel) and Bella Ramsey (Ellie) following the vision of its showrunners Craig Mazin and Neil Druckmann (who is also the game's writer).
Loyal to its source material, the series follows hard-cased survivor Joel, who is suffering from the loss of his daughter, and Ellie, a teenage girl struggling to find a real human connection. When fate ultimately brings the two together, they journey across a post-apocalyptic U.S., searching for a faint hope for humanity amidst a growing threat of zombies and infection.
The first episode of The Last of Us aired earlier this month, leaving everyone waiting on edge for what comes next. Like most HBO show premieres, this one isn't bingeable just yet. Ellie and Joel's story unfolds every Sunday, giving viewers much-needed breaks between its heart-racing moments. Crafted with meticulous attention to detail, the post-apocalyptic zombie-filled tale we know draws almost frame by frame from the original game.
The show's mainstream success got us thinking about books like The Last of Us and other books all video-game lovers would enjoy. So, we've gathered some of the best books that read like your favorite virtual realities. From high-stakes magical lands to cyber dystopias, these page-turners imagine worlds you won't want to leave, even with all the zombies and impending doom.
The Last of Us: American Dreams
We had to start this list on theme, so our first recommendation is the comic book lead-in to the Last of Us game. This story chronicles Ellie's life before she teams up with Joel. For those unfamiliar with the horror game series, it takes place in a post-pandemic world after a fungal outbreak killed most of the population.
In this prequel, 13-year-old Ellie has spent the last few years in this violent, virus-ravaged world, shuttling between different quarantine zones. She finds herself at a military-run boarding school, where her headstrong behavior earns her new enemies, a new fellow rebel friend Riley, and her first adventure into the outside world.
Kill Code
It's the year 2031 in a world decimated by climate change. Most of the Earth's population finds themselves struggling to earn a living, scavenging for food, and being oppressed by the rich and elite. Before society's collapse, Hogan Duran was an honest cop who was forced to resign when he failed to save his partner in a shootout.
Now, he gets the chance to right his wrongs through an invitation to join the National Security Council, a paramilitary group responsible for protecting the elite class. But first, Duran will have to pass the ruthless trials and games that make up the entrance exam.
As the ex-cop delves deeper into the council's world, he realizes there may be more to it than meets the eye. His road to redemption will be bumpy, with plenty of twists, turns, and shocking discoveries.
Ruination: A League of Legends Novel
This first League of Legends novel takes place long before the game's setting. This prequel delves deeper into the game's lore by telling the story of Camavor, a brutal nation founded on blood and conquest.
Kalista seeks to change the kingdom's cruel ways. When her temperamental uncle, Viego, becomes king, she vows to keep his destructive behavior under control as his loyal confidant and general. But her plans are derailed when an assassin poisons Viego's wife, cursing her with an illness for which there is no known cure.
Viego, stricken with grief, descends into madness and desperation, threatening to drag Camavor down with him. Kalista sets out on an epic journey for a cure in the long-lost Blessed Isles, hoping to save her kingdom from downfall.
This tale of magic, revenge, and a kingdom on the verge of ruin, is fit for all fantasy fans, League of Legends players or not.
A Boy and His Dog
Calling all Fallout game fans. This short story, which was originally published in 1969, influenced much of the series' inception. Winner of the Nebula award, A Boy and His Dog tells the tale of 15-year-old Vic and his dog, Blood, as they scavenge the radioactive wastelands of the United States after a nuclear Third World War.
The ragtag pair find themselves lured into an artificial biosphere where its inhabitants plan to use Vic to impregnate the female population. In 1975 the story was adapted into a film, which Fallout designer Jesse Heinig told The Escapist in 2009 "inspired Fallout on many levels."
One of its main takeaways from the film is the beloved canine companion who appears throughout every Fallout game, the German shepherd, Dogmeat. "Dogmeat" is a reference to the nickname Vic gives to Blood. If you're familiar with the game, reading this tale will reveal even more similarities between the two post-apocalyptic worlds.
Tomorrow, and Tomorrow, and Tomorrow
Sam Masur and Sadie Green meet in a hospital as kids; Sadie is there with her sister, who has cancer, and Sam is recovering from a tragic car accident. The pair bond over video games in the hospital's activity room and quickly fall into a blossoming friendship.
However, a falling out keeps them apart until a decade later when they reconnect as college students in Boston. With the random chances that brought them together, they take a stab at designing a game together.
Overnight their lives change as the game becomes a blockbuster success. Sam and Sadie are as brilliant and wealthy as ever, but these qualities won't stop their own creative ambitions and hearts' desires from complicating their future endeavors.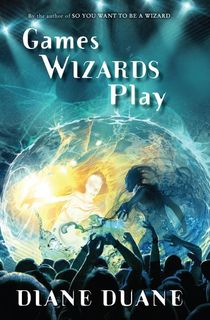 Games Wizards Play
The tenth book in Diane Duane's Young Wizards series bears a mild resemblance to the enchanting game World of Warcraft. The novel follows pals Nita, Kit, and Dairine as they mentor the newest, sharpest young wizards through schools of magic, reminiscent of WoW's schools of fire, frost, and arcane.
Nita and Kit, a new couple, mentor an obnoxiously arrogant sun technician, Penn Shao-Feng, who has a dangerous new take on controlling solar weather. Dairine is to watch over a shy young girl, Mehrnaz Farrahi, who specializes in earthquakes.
Together, they enter a whirlwind of deadly competitions, mind games, and ruthless judging. When both students make it into the finals, they and their mentors must compete in a final battle that could change the world for the better or damage it beyond repair.
Featured Photo: Naughty Dog / Flickr