We're giving away an Afrofuturism book bundle! One lucky winner will take home Parable of the Sower and Parable of the Talents by Octavia Butler; the Kindred and Parable of the Sower graphic novel adaptations from John Jennings and Damian Duffy; and Kenji Jasper's latest novel, Nostrand Ave.
By entering your email address, you agree to receive emails from The Portalist.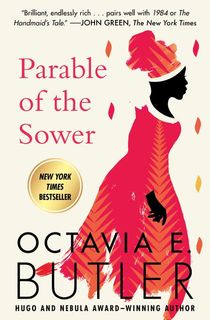 Parable of the Sower
When global climate change and economic crises lead to social chaos in the early 2020s, California becomes full of dangers, from pervasive water shortage to masses of vagabonds who will do anything to live to see another day. Fifteen-year-old Lauren Olamina lives inside a gated community with her preacher father, family, and neighbors, sheltered from the surrounding anarchy. In a society where any vulnerability is a risk, she suffers from hyperempathy, a debilitating sensitivity to others' emotions.

Precocious and clear-eyed, Lauren must make her voice heard in order to protect her loved ones from the imminent disasters her small community stubbornly ignores. But what begins as a fight for survival soon leads to something much more: the birth of a new faith . . . and a startling vision of human destiny.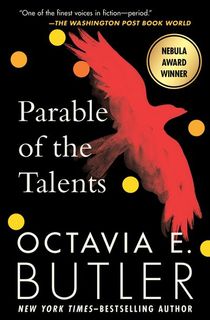 Parable of the Talents
In 2032, Lauren Olamina has survived the destruction of her home and family, and realized her vision of a peaceful community in northern California based on her newly founded faith, Earthseed. The fledgling community provides refuge for outcasts facing persecution after the election of an ultra-conservative president who vows to "make America great again." In an increasingly divided and dangerous nation, Lauren's subversive colony--a minority religious faction led by a young black woman--becomes a target for President Jarret's reign of terror and oppression.

Years later, Asha Vere reads the journals of a mother she never knew, Lauren Olamina. As she searches for answers about her own past, she also struggles to reconcile with the legacy of a mother caught between her duty to her chosen family and her calling to lead humankind into a better future.
Nostrand Ave.
Jamison "Kango" Watts was once known as an invisible man, a quiet "fixer" who always got the job done with clean hands and cash in his pocket. Now he's living the quiet life in DC, running a soul food restaurant and doing the occasional job to scratch his old itch. All that changes when Jelly blows into town with the ultimate score, one that will take Kango first to London and then back to Brooklyn to face old enemies and ghosts from his past. After a rain of gunfire, Kango's retirement ends, and he's back in the game.

Caught between a crew of arsonists who go after Brooklyn historical landmarks and flashbacks of his time with the love of his life, Kango stands face-to-face with the forces that led him into exile. But there is still an enemy in New York that Kango still doesn't see, one who after fifteen years has become the unexpected foe at the center of it all . . .

Praise for Kenji Jasper

"From the first page Jasper guns the engine, whipping the reader from pole to pole."
—Victor LaValle, author of The Changeling, on Dark

"Kenji Jasper is an extraordinary young talent."
—George Pelecanos, award-winning writer and producer
Kindred
Instant #1 New York Times Bestseller
Winner of the 2018 Eisner Award for Best Adaptation from Another Medium

Octavia E. Butler's bestselling literary science-fiction masterpiece, Kindred, now in graphic novel format.

More than 35 years after its release, Kindred continues to draw in new readers with its deep exploration of the violence and loss of humanity caused by slavery in the United States, and its complex and lasting impact on the present day. Adapted by celebrated academics and comics artists Damian Duffy and John Jennings, this graphic novel powerfully renders Butler's mysterious and moving story, which spans racial and gender divides in the antebellum South through the 20th century.

Butler's most celebrated, critically acclaimed work tells the story of Dana, a young black woman who is suddenly and inexplicably transported from her home in 1970s California to the pre–Civil War South. As she time-travels between worlds, one in which she is a free woman and one where she is part of her own complicated familial history on a southern plantation, she becomes frighteningly entangled in the lives of Rufus, a conflicted white slaveholder and one of Dana's own ancestors, and the many people who are enslaved by him.

Held up as an essential work in feminist, science-fiction, and fantasy genres, and a cornerstone of the Afrofuturism movement, there are over 500,000 copies of Kindred in print. The intersectionality of race, history, and the treatment of women addressed within the original work remain critical topics in contemporary dialogue, both in the classroom and in the public sphere.
Parable of the Sower Graphic Novel
In this graphic novel adaptation of Octavia E. Butler's Parable of the Sower by Damian Duffy and John Jennings, the award-winning team behind Kindred: A Graphic Novel Adaptation, the author portrays a searing vision of America's future. In the year 2024, the country is marred by unattended environmental and economic crises that lead to social chaos.
Lauren Olamina, a preacher's daughter living in Los Angeles, is protected from danger by the walls of her gated community. However, in a night of fire and death, what begins as a fight for survival soon leads to something much more: a startling vision of human destiny . . . and the birth of a new faith.
For full details, see official rules.
Note: The sweepstakes is open to all legal residents of the 50 United States and Washington, DC who are 18 years of age and older by February 8, 2021.