LeVar Burton is best known for his work on Roots, Star Trek: The Next Generation, and Reading Rainbow, but his own writing is finally getting more of the recognition it deserves.
In 1997 Burton published Aftermath, a sci-fi dystopia set after the War of 2015-2018. Now, Burton's prescient novel is being released in ebook and audiobook form, with each edition featuring a brand-new author's note.
In anticipation of the July 20th release, The Portalist has joined forces with Hachette Audio to give five lucky winners a copy of the Aftermath ebook, as well as the audiobook narrated by Burton himself. Enter your email address below to win!
By entering your email address, you agree to receive emails from The Portalist and Hachette Audio.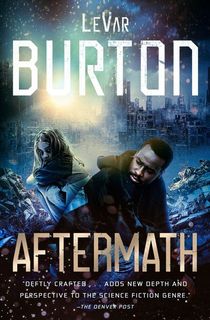 Aftermath
In 2012, the first African American president is assassinated by a white extremist—just four days after he is elected. The horrific tragedy leads to riots, financial collapse, and ultimately, a full-on civil war. In its aftermath, millions are left homeless as famine and disease spread throughout the country.

But from Chicago, a mysterious voice cries out . . .

To Leon Crane, a former NASA scientist now struggling to survive on the streets, the pleas he hears remind him of the wife he could not save—and offer him a chance at redemption.

To Jacob Fire Cloud, a revered Lakota medicine man, the voice is a sign that the White Buffalo Woman has returned to unite all the races in peace and prosperity.

And to little Amy Ladue, the cries are those of her mother, who disappeared during the devastating St. Louis earthquake—and who must still be alive.

These three strangers will be drawn together to rescue someone they have never met, a woman who holds the key to a new future for humanity—one remarkably brimming with hope.

"LeVar Burton brings a strong new voice to science fiction with this powerful, even disturbing, novel." —Ben Bova, New York Times–bestselling author

"An amazingly good first novel." —Rocky Mountain News

"I highly recommend this book!" —Whoopi Goldberg
For full details, see official rules.
Note: The sweepstakes is open to all legal residents of the 50 United States and Washington, DC who are 18 years of age and older by July 9, 2021.