Best known for his Myth Adventures and Phule's Company series, Robert Asprin was a prolific science fiction and fantasy author who published work from the 1970s through the early 2000s. He was also an active member of the science fiction fan community: As an integral part of the Society for Creative Anachronism, he helped initiate the Great Dark Horde.
Asprin started writing while attending the University of Michigan before serving in the United States military. After his service, he published his first book, The Cold Cash War, in 1977, a continuation of a short story he had written years prior.
The following year, Asprin and his then-wife Lynn Abbey created and edited Thieves' World®, an anthology of multiple stories written by different authors all taking place in the same fantasy world. Thieves' World® is said to be the first "shared world" anthology of its kind. There are now four additional volumes of Thieves' World® as well as accompanying graphic novels written by a variety of beloved authors like Poul Anderson, John Brunner, Diane Duane, and many more.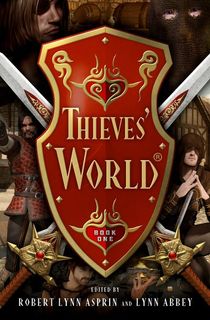 Thieves' World®
An array of authors have created all kinds of characters from wizards and fortune tellers to spies and emperors to live within the city of Sanctuary. Anything can happen in Sanctuary, and these characters ensure there's never a dull moment.
After the success of Thieves' World®, Aspirin published his famous Myth Adventures series. The series has grown to include over twenty books. Aspirin worked with a coauthor, Jody Lynn Nye, for the later editions. Nye went on to continue the series on her own after Aspirin's death in 2008.
Another Fine Myth
The first book in the series, Another Fine Myth, introduces readers to Skeeve, a magician's apprentice who has an affinity for thievery and little aptitude for magic. Skeeve's teacher, Garkin, attempts to show Skeeve how a life of crime is nothing compared to that of a magician… and accidentally summons a demon. In the chaos of the summoning, Skeeve is left alone with the demon and fully thrust into the world of magic and alternate dimensions. Skeeve soon learns that the demon, Aahz, is also a Master Magician. Aahz takes on Skeeve as his apprentice and the pair embark on a series of misadventures.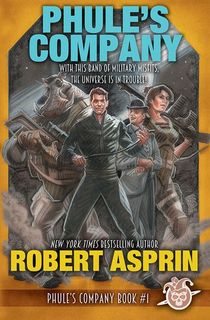 Phule's Company
In the 1990s, Asprin began writing and publishing the Phule's Company series. The series went on to span six volumes. Aspirin wrote the first two books himself, later bringing on co-author Peter J. Heck to assist with four additional books. The series follows Willard J. Phule, the son of a millionaire arms manufacturer. Punished for ordering an attack during a treaty signing ceremony, Phule is sent to Haskin's Planet where he is given command of an Omega Company. With his new band of misfits, Phule uses his personal funds to morph the mining settlement into a cohesive space legion.
During his career, Asprin received an Inkpot Award and was nominated for multiple Hugo Awards. He was the mind behind eight separate series as well as eight standalone novels and a variety of short fiction. After his death, his personal book collection was donated to the department of Rare Books and Special Collections at Northern Illinois University.
Robert Asprin continues to be remembered for his contributions to the science fiction and fantasy community as both a dedicated fan and writer. He is specifically remembered for pioneering shared world fantasies and sparking a new generation of collaboration between science fiction and fantasy writers.