On Mars, humanity has discovered its final opportunity for survival — but not everyone believes the species deserves a second chance.
John Andrew Karr's thrilling new sci-fi series Mars Wars follows Captain Ry Devans and Dr. Karen Wagner, members of the Mars Orbiter Station One. After extensive research, the Space Consortium of America has discovered how to harvest resources on Mars that are desperately needed back on the dying planet Earth.
The historic terraforming mission is complicated when Dr. Wagner discovers a plot to deliberately unleash a sample of deadly Martian microbes back on Earth. Captain Devans and Dr. Wagner know the future of humanity hangs in the balance — but with traitors on board the orbiter and back on their home planet, our species' last chance is set to implode.
John Andrew Karr's Detonation Event and its upcoming sequel Rogue Planet are thrilling hard sci-fi stories that follow Captain Devans and Dr. Wagner's desperate mission to sustain life on Earth, while surviving the unexpected conflicts and dangers that arise in space. Rogue Planet hits shelves January 21st, but Portalist readers can get a sneak peek now with our Mars Wars sweepstakes! Five winners will take home one copy each of Detonation Event and Rogue Planet.
Enter your email address for a chance to win.
By entering your email address, you agree to receive emails from The Portalist.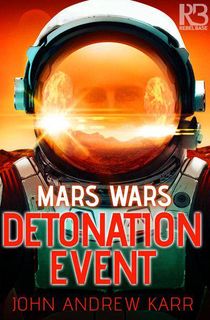 Detonation Event
For decades the Space Consortium of America has searched for new ways to harvest resources beyond an increasingly depleted Earth. The ultimate plan is about to be ignited. So is the ultimate threat to humankind . . .

Battle-hardened Cpt. Ry Devans and his crew of the Mars Orbiter Station One are part of a bold plan: resurrect the once-active molten cores of the red planet with synchronized thermonuclear explosions, and terraform the hell out of that iron-oxide rock for future generations. It'll change history. So will the strands of carbon-based Martian cells that have hitched a ride on the ship.

Dr. Karen Wagner knows the microbes' resistance to virus is incredible. It's the unknowable that's dicey. Her orders: blow them into outer space. But orders can be undermined. Two vials have been stolen and sent hurtling toward the biosphere. For Devans and Wagner, ferreting out the saboteurs on board is only the beginning. Because there are more of them back on Earth—an army of radical eco-terrorists anxious to create a new world order with a catastrophic gift from Mars.

Now, one-hundred-and-forty-million miles away from home, Devans is feeling expendable, betrayed, a little adrift, and a lot wild-eyed. But space madness could be his salvation—and Earth's. He has a plan. And he'll have to be crazy to make it work.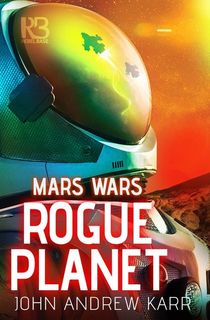 Rogue Planet
After jumpstarting the molten cores of Mars, giving the previously dormant planet a fresh start at harboring life, Cpt. Ry Devans is a hero. But he's also a wanted man thanks to the Earth First Faction (EFF), a terrorist global juggernaut out to quash the colonization of space and keep the last of humanity under its control.

Now that the EFF has dispatched its own deadly crew, Devans and his team have three options: fight, surrender, or witness the extinction of the thousands of civilians repopulating space. For Devans and his outlaw partner Dr. Karen Wagner, option number one is the only way to go—but the odds against them are literally astronomical.

Not only are moles undermining every offensive tactic, but some crewmembers onboard their ship are exhibiting dangerously psychotic mood swings. Is it just an extreme case of space crazy? Or a new microbial gift from Mars that could kill their mission before the war with EFF even begins?
For full details, see official rules.
Note: The sweepstakes is open to all legal residents of the 50 United States and Washington, DC who are 18 years of age and older by January 20, 2020.