Note: This article was last updated on 6/1/19. Check back soon for more free books! 
When today's top science fiction and fantasy authors were looking for inspiration, they turned to the classics. And we continue reading those same books (year after year) because they stand the test of time.
Every month, we're bringing you a selection of must-read, sci-fi and fantasy classics that you can download for free. In addition to these classics, we'll update this article with other free sci-fi and fantasy books by up-and-coming authors throughout the month. You can also check back next month for a new list of out-of-this-world free ebooks. 
My Father's Dragon
This fascinating chronicle of unexplained phenomena is a foundational work of paranormal science


Elmer Elevator has always wanted to fly, and when he takes in an old alley cat out of the rain, he gets his chance. The grateful cat tells him about a flying dragon that lives on the faraway Wild Island, where it has been tied up by a bunch of cruel animals and forced to work incessantly.

Not being the kind of boy who stands for such things, Elmer packs his knapsack and sets off to free the downtrodden dragon. Stowing aboard a ship and braving many dangers, Elmer will let nothing stop him from reaching Wild Island.

But if he's going to save the dragon and finally fly, he'll have to dig deep into his knapsack and outwit all sorts of tricky creatures inhabiting the isle.
RELATED: The Best Monthly Science Fiction & Fantasy eBook Deals  
From the Earth to the Moon and Round the Moon
A team of nineteenth-century American engineers builds a rocket to the moon in this visionary novel from the author of Twenty Thousand Leagues Under the Seaand Around the World in Eighty Days.

During the Civil War, the members of the Baltimore Gun Club delighted themselves by designing artillery the likes of which the world had never seen. But when the South eventually surrenders, the gun club languishes, until its president, Impey Barbicane, conceives of a project so preposterous it must be attempted: to build a gun large enough to fire a rocket to the moon.

From raising the money to casting the cannon to readying it to fire, the gun club overcomes one seemingly insurmountable obstacle after another. But when a rival engineer and an intrepid French adventurer join Barbicane on the spaceship's inaugural voyage, the three men soon discover that getting to the moon is only half the battle: Making it home will be their toughest challenge yet.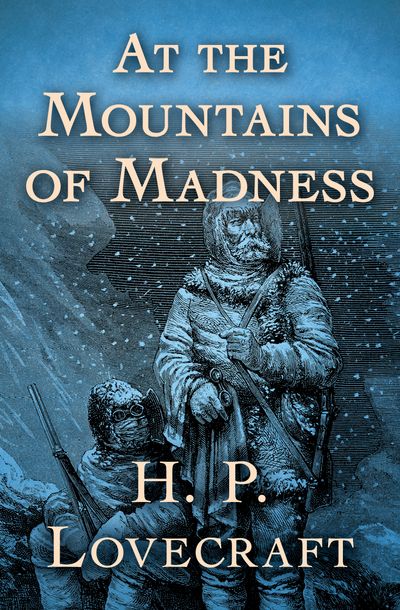 At the Mountains of Madness
This classic mind-shattering tale, which "ranks high among the horror stories of the English language," plunges into the darkness of the Cthulhu mythos (Time).

In the uncharted wastes of Antarctica, an exploration party from Miskatonic University encounters a gory sight when they discover their advance team's camp has been destroyed and its members slaughtered. There is no evidence of what happened except a series of burial mounds, six of which contain dead specimens of unknown species. Eight similar tombs are empty, but they haven't been broken into—they've been broken out of.

What began as a search for knowledge soon becomes a terrifying confrontation with the true nature of the world and the universe in all its stark blackness and unyielding oblivion. For mankind is not—and never has been—the bright light of creation. It's all a mistake, an insignificant stain of existence, forgotten by an unwitting and indifferent creator . . . until now.
The Island of Doctor Moreau
H. G. Wells's science fiction classic: the dark and captivating story of one man's fight for survival against the lab-made nightmares of a mad scientist

Shipwrecked and abandoned, Edward Prendick cautiously steps ashore a remote island in the Pacific. Though wary, Prendick is unaware of the horrors that await him here. But what appears at first to be a typical volcanic island slowly reveals itself to be the macabre workshop of maligned London physiologist Dr. Moreau. Moreau's genius had been celebrated far and wide until the true nature of his work was exposed. Now secluded on his island, Moreau engages unimpeded in gruesome experiments of vivisection, splicing animal and man together in a terrifying display of his dominion over nature. When Prendick realizes he's slated to be the next subject on Moreau's grisly surgical table, he flees to the jungle—where all manner of unnatural creatures abound . . .

Peter Pan
The enchanting story of a boy who wouldn't grow up and the girl he promised to always remember 
One magical night, the Darling children­­––Wendy, John, and Michael––are visited by two mischievous denizens of Neverland, an island of the imagination where pirates prowl the Mermaids' Lagoon and fairies live so long as children believe in them. Peter Pan and his loyal, lightning-quick companion, Tinker Bell, have come for Peter's shadow, captured the previous night by Nana, the children's Newfoundland nanny. The pair leaves not just with the shadow, but with Wendy and her brothers, as well, whisking them away to Neverland to join the Lost Boys in their war against the evil Captain Hook.

J. M. Barrie created the character of Peter Pan to entertain a young family he regularly met in Kensington Gardens. Over the course of two novels and a play, he turned a whimsical idea into one of the most cherished literary characters of all time. 
The Portalist may collect a share of sales from the links on this page.
Published on 01 May 2019
---
---