Note: This article was last updated on 1/2/19. Check back soon for more free books! 
When today's top science fiction and fantasy authors were looking for inspiration, they turned to the classics. And we continue reading those same books (year after year) because they stand the test of time.
Every month, we're bringing you a selection of must-read, sci-fi and fantasy classics that you can download for free. In addition to these classics, we'll update this article with other free sci-fi and fantasy books by up-and-coming authors throughout the month. You can also check back next month for a new list of out-of-this-world free ebooks. 
Five Children and It
In this classic tale of adventure and wish fulfillment, five city kids find the countryside to be filled with magic and wonder.
Be careful what you wish for.

After two years cooped up in London, Cyril, Anthea, Robert, Jane, and their baby brother, "the Lamb," are thrilled to be living in the country. The best thing about their new home is that there are no rules, no places that are off limits. One day while playing in a gravel pit, they uncover a fat, furry creature that has been asleep for thousands of years. The Sand-fairy, also known as It, grants them one wish a day, to be shared among them. At sunset, the wish will turn to stone.
Lilith
The classic fantasy about a young man who travels through a mystical reflecting glass into a hidden world

Mr. Vane spots the mysterious old man while reading in his family's expansive library. His interest piqued, he follows the man up to the attic, where he finds a tall and dusty mirror. In its rather unremarkable glass, the reflection of the world behind him slowly melts away to reveal a sweeping country of moors and hills framed by the tops of faraway mountains. Enchanted by the sight, Vane steps through the mirror and is transported to a dreamlike land where myriad perils and adventures await.

With the old man, Mr. Raven, as his guide, Vane travels through the Evil Wood, where innocent children frolic in the day and dead men battle at night. He visits the ominous city Bulika, whose people live in silent fear of a menace roaming the streets. Each chapter building on the last, Lilithfollows Vane to a final and universal truth in a stunning allegory of life, death, and redemption.
A Honeymoon in Space
One of the first novels about interplanetary travel, A Honeymoon in Spacetakes readers on a journey across the solar system

Lenox, the Earl of Redgrave, has made the greatest scientific discovery in the history of the world: a flying ship with the power to break free of Earth's gravity and take to the stars. But before he uses it to expand humanity's understanding of the universe, he has some personal business to attend to—namely, wooing an old flame.

The lady in question is Zaidie, the daughter of Lenox's colleague Professor Rennick. With Zaidie about to be forced into a loveless marriage, Lenox knows he must do something drastic. He steals her away and takes her out of this world—literally. Griffith's accounts of other planets are spectacularly engaging—from subterranean civilizations on the moon to the warlike Martians to the musical inhabitants of Venus. This remarkable adventure makes for a memorable honeymoon indeed.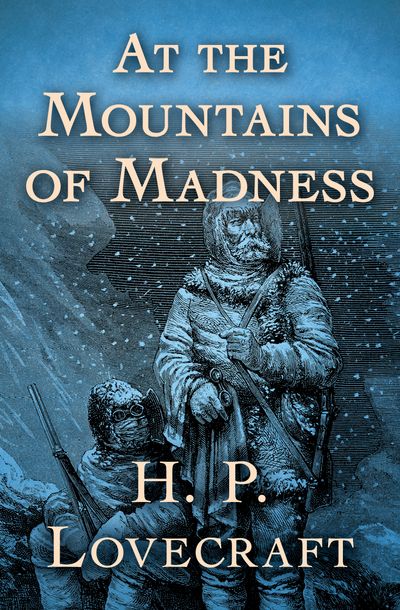 At the Mountains of Madness
This classic mind-shattering tale, which "ranks high among the horror stories of the English language," plunges into the darkness of the Cthulhu mythos (Time).

In the uncharted wastes of Antarctica, an exploration party from Miskatonic University encounters a gory sight when they discover their advance team's camp has been destroyed and its members slaughtered. There is no evidence of what happened except a series of burial mounds, six of which contain dead specimens of unknown species. Eight similar tombs are empty, but they haven't been broken into—they've been broken out of.

What began as a search for knowledge soon becomes a terrifying confrontation with the true nature of the world and the universe in all its stark blackness and unyielding oblivion. For mankind is not—and never has been—the bright light of creation. It's all a mistake, an insignificant stain of existence, forgotten by an unwitting and indifferent creator . . . until now.
The First Men in the Moon
Hounded by creditors, Mr. Bedford retreats to a remote English village, where he meets the eccentric Mr. Cavor. Though he may not look it, Cavor is a genius and one of the world's greatest inventors. His breakthrough is cavorite, an astonishing new substance manufactured from helium that is not bound by the laws of gravity. Bedford immediately sees the business potential of Cavor's creation, reckoning a ship made of cavorite could take him the moon—the first step on a path to riches beyond his wildest dreams.

When Bedford and Cavor set out for the moon in a cavorite sphere, they find the Earth's satellite to be more wonderful than either of them ever imagined. But they soon discover they are not alone on the lush lunar surface—and the natives are not exactly friendly.
The Portalist may collect a share of sales from the links on this page.
Created on 09 Jan 2019
---
---