It's been a week since the release of Hell Bent by Leigh Bardugo, and if you're like us, you've already binged it and are nursing a fairly severe book hangover. (If you haven't, you can check out book two of the Alex Stern series here.)
To make matters worse, we have to wait for the third book to get the closure we need. It's agony.
Fortunately, we found the perfect solution. Here are eight dark academia books filled with magic, adventure, ghosts, and heists to help make the wait a little easier.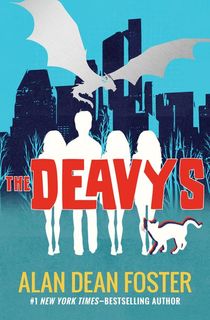 The Deavys
Simwan Deavy's life isn't normal. Literally.
His family is non-Ord, or non-ordinary: His uncle is a ghost, his cat talks, and he and his sisters learn normal subjects like history and math, and non-Ord things like hexing and enchanting. But when a bottle of Truth is stolen things start going wrong.
The life of Simwan's mother depends on the Truth, and its absence is making her weak. With the help of their cat, the Deavys head to New York to track down the Truth. But the city is full of traps, making their journey dangerous. For them to succeed—and survive—they're going to have to stick together or lose the Truth forever.
Babel
For years, Robin Swift studied Latin, Ancient Greek, and Chinese. His goal is to enroll in Babel, Oxford's prestigious Royal Institute of Translation, the world's center for translation—and magic. Oxford is a utopia for where he can pursue knowledge.
But as a Chinese boy raised in London, serving Babel is a betrayal. Robin finds himself caught between Babel and a society determined to stop Britain's imperial expansion.
When Britain engages in an unjust war against China, Robin has to finally choose: Can he change the institution from within, or do revolutions always lead to violence?
Ordinary Monsters
Outside of Edinburgh is an eerie estate where grizzled detectives bring children with mysterious powers. Known as the Talents, the two newest recruits have been brought from the streets of London.
Sixteen-year-old Charlie Ovid's body heals itself, whether he wants it to or not. Marlowe glows with a slight bluish light and can heal or melt flesh. As they learn how to control their powers at the Institute, the truth about their abilities unfolds.
In the shadows, a monster lurks.
The Ravens
Vivi Deveraux is hoping that being a sister at Westerly College's Kappa Rho Nu sorority will redefine her life. It's not just that their parties are notorious, or that their fundraisers are elaborate. The sisters are a coven of witches.
Scarlett Winters is joining the sorority to uphold her mother's expectations and become the new president. Scarlett is the perfect candidate. At least, if you ignore the human-sized skeleton hidden in her closet.
When Vivi and Scarlett are paired for initiation, they have no idea how sinister the blood oaths and betrayals are actually going to be.
Portrait of a Thief
Will Chen is a senior at Harvard. He upholds the perfect standards his parents hold for him until a mysterious Chinese benefactor offers him an impossible proposition: lead a heist to steal back five priceless Chinese sculptures taken from Beijing hundreds of years ago.
Each member of Will's team has a complicated relationship with China and their identity as Chinese Americans. If they succeed, they earn $50 million.
If they fail, they don't just lose everything they've dreamed. They lose against the forces of colonialism that have looted their people's treasures for hundreds of years.
The Starless Sea
When graduate student Zachary Ezra Rawlins finds a mysterious book hidden in the stacks, he's drawn into the stories—until he finds one from his childhood.
Desperate and bewildered, he tries to figure out how he ended up in a book and uncovers three clues: a sword, a bee, and a key. They lead him to a masquerade party, a secret club, and to a doorway to an ancient library deep underground.
There are many who have guarded this sacred realm, and many who seek to destroy it. Together with two companions, one a fierce guardian and the other with flexible loyalties, Zachary searches to understand his purpose, in both the book and his life.
The Historian
One year ago, Felicity Morrow left Dalloway School after her girlfriend died. Now she's back and ready to graduate.
Everything is mostly the same, including her room … the one rumored to be haunted by the Dalloway Five, girls who died mysteriously, one after the other. The ones who were witches.
Witchcraft was fun to whisper about before, but Felicity is determined to put all that behind her. When newcomer Ellis Haley asks Felicity for help researching her book, however, Felicity can't say no. History soon starts to repeat itself, and Felicity must face the dark side of both Dalloway and herself.
Featured photo: Darya Tryfanava / Unsplash