Known for his theory of relativity, but best known by the public for his mass-energy equivalence formula—E=mc², Nobel Prize winner Albert Einstein is a name forever etched into the foundations of science. He's considered one of the most brilliant men in history, but you may know less about the scientist than you thought.
The German-born theoretical physicist was much more than a scientist. While Einstein was alive, he was equally as well-known for his humanitarian work as he was for his groundbreaking discoveries—traveling around the world offering aid and advice to counties in need. On the eve of World War II, the scientist signed a letter, written by Leó Szilárd, to President Franklin D. Roosevelt warning of an extremely powerful and deadly weapon the Germans were building—strongly recommending that the U.S. begin working on their own version. His warnings gave birth to the Manhattan Project, and later the atomic bomb.
If you're looking to learn more about the scientific genius, dive into one of these books about Albert Einstein. From a book written by the theoretical physicist himself to a collection of Einstein's Dreams, these books will immerse you in the life of one of the most influential people in history.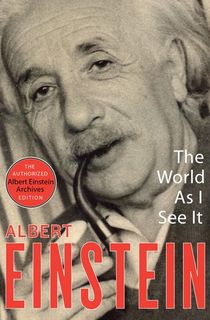 The World As I See It
As a German Jew who lived through both World Wars, life was difficult for Albert Einstein. Written after World War I, The World As I See It contains Einstein's political beliefs about the growing anti-Semitic culture of Germany as well as his spiritual feelings. Much more than just a scientist, this book—which contains letters, speeches, and more—exposes his humanitarian side.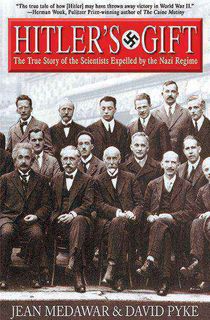 Hitler's Gift
Among the Jewish refugees who fled Hitler's ascent to power were some of the country's most brilliant minds, luminaries who were forced out of their jobs and then ultimately fled Germany in order to survive. Einstein was one of many Jewish professors who left his home in 1933 when Hitler came to power; the exodus of scientific pioneers from Germany also included innovators like Erwin Schrödinger and Ernst Chain, the co-discoverer of penicillin. This book—based on interviews with twenty of the surviving refugees—chronicles these stories of escape from the Third Reich, and recounts how the refugees who were forced out of their home by fascism went on to change the world and influence the course of World War II.
Einstein: His Life and Universe
Walter Isaacson's book is perhaps one of the most well-known biographies of Einstein. From beginning to end, it covers the expansive mind that belonged to this scientist, and is an engrossing read from the start. With the help of renowned physicist Brian Greene, Isaacson takes care to explain the complex physics in ways the average reader can easily understand, making this book one of the most well-rounded approaches to Einstein's life.
From his birth in Germany through his distaste with the educational system, readers will learn of his fascinations with certain areas of physics and math that led him to become a legendary man of science. Einstein dared to question not only the strict rules of physics, but also the philosophical approach to it.
Einstein's Dream
Alan Lightman takes a somewhat different approach to the scientist's life. This book contains about 30 stories that were dreamt up by Einstein in 1905, the year he published some of his most influential papers. In one story, time is circular, and people are fated to repeat the same events again and again. In another, time stands completely still. Each story is a different dream Einstein had as he was grappling with his Theory of Relativity.
This collection has inspired creative minds across the globe. Connecting science and art, it questions our modern perceptions of time in some of the most creative ways.
Einstein: A Life of Genius
As one of the most prominent figures in the 20th century, Albert Einstein paved the way for some of the most innovative technologies we have today. Everything from the computer to the atomic bomb began with his equations. But did you know Einstein was asked to be President of Israel, a new state at the time? Kennedy's telling of Einstein's life is easily-accessible, and packed with information.
You've most likely seen pictures of Einstein as a cartoon or crazy scientist, but have you ever wondered why a deeply complex, brilliant, and internationally renowned man is commonly known as this today? After turning the final page readers will understand the path of science as Einstein paved it, and what kind of potential it has in the future.
Einstein's Cosmos: How Albert Einstein's Vision Transformed Our Understanding of Space and Time
Michio Kaku's book may be as short as you'll find when it comes to biographies about Einstein's life. As a well-known physicist and author, he works to link together crucial discoveries and the simple mental images that inspired them. His approach to explaining popular topics in a nuanced fashion provides the reader with a roundabout way of looking at the brilliant mind of the scientist.
E=mc²: A Biography of the World's Most Famous Equation
Have you ever read the biography of an equation? It sounds boring, but we promise this story is far from dull. You don't have to be a science person to have heard of this famous equation. And chances are that, despite being familiar with it, you probably have little idea of what it means. Used to explain the relationship between mass and energy, E=mc² is Einstein's most notable contribution to mathematics. In his book, David Bodanis focuses on the five elements of the equation, and talks about the people and incidents that led to its birth in 1905. He goes in depth about the evolution of our perception of the universe, and the various theories we have for how it will come to an end.
Bodanis' approach is different from many of the others on this list because it is not composed of lengthy stories, but rather it contains short statements that give detailed explanations. One thing is for certain: Your view of the world will change.
God's Equation: Einstein, Relativity, and the Expanding Universe
What was Einstein's biggest blunder? Most people have heard of it, but few know what it is. In the height of his fame, Einstein projected the idea of the cosmological constant. This constant is a rate at which the universe is constantly expanding. The big questions that came next were what drove this expansion, and where the known universe was expanding into. Einstein later rejected the idea, calling it his "biggest blunder."
Then, in January 1998, it was confirmed that the universe was indeed expanding at an impressive rate. This not only confirmed Einstein's equation, but introduced a new revolutionary series of explorations and discoveries to be made.
Based on newly discovered letters of Einstein, many translated for the first time in this book, Amir D. Aczel takes readers into the strange fabric of space-time. It looks at various theories and builds out a picture of the universe from there—it's pure science at its finest. This read isn't for a light-hearted. It'll require some serious brain power to devour, but it's entirely worth it.
Einstein: A Hundred Years of Relativity
In 1905, Einstein completely shattered previous conceptions of the universe that were first proposed by Sir Isaac Newton. Andrew Robinson takes readers on an exploration of the great life of this scientist and humanitarian who was much more than history has led on. Meet the man who forever changed our understanding of space, time, energy, matter, and light.
Robinson highlights one of Einstein's most famous beliefs: Imagination, not knowledge, is what makes a person intelligent. This biography will give readers a good sense of the scientist without overwhelming them with information.
Einstein: The Inner World of a Genius
If you know nothing else about Einstein, you know he was a genius. But what does the life of a genius actually look like? Author Ivan Fernandez dives into the nitty gritty aspects of Einstein's personal and academic life. He'll walk readers through some of Einstein's greatest triumphs, and equally great conflicts. Fernandez writes under the pretense that while Einstein may be gone, his teachings and principles still ring true even today. Where most biographies about the scientist cover his life with a serious tone, Fernandez manages to slip in moments of humor—moments you can be sure Einstein himself would appreciate.
This post is sponsored by Open Road Media. Thank you for supporting our partners, who make it possible for The Portalist to continue publishing the stellar stories you love.
Featured photo: Alchetron